At Your Fingertips
What are the makings of a vibrant, active community? Part of the recipe is a full calendar of life enrichment programs for you to choose from—created by listening to and learning from you. From exercise and wellness to adventures in the larger community, we provide great sources of joy, excitement and relaxation—each and every day. We're always sure to make time for laughter, connection and friendship, and include those ideals in everything we do.

We encourage everyone—not just our residents but also our team—to lead healthier, more active lifestyles, helping build a culture that celebrates every moment in our journey together.
Life Enrichment Calendars
We offer a calendar as full as you want it to be. Feel free to choose from any number of activities, or just relax in the comfort of home and in the company of friends.
Monday, May 29th | 11:00 am
Memorial Day Grill Out
We are happy to welcome you to a grill out in celebration of Memorial Day at Inspirations of Florence! Come enjoy lunch on us in the Dining Room!
RSVP to Sarah at 859-750-0708
Click here to RSVP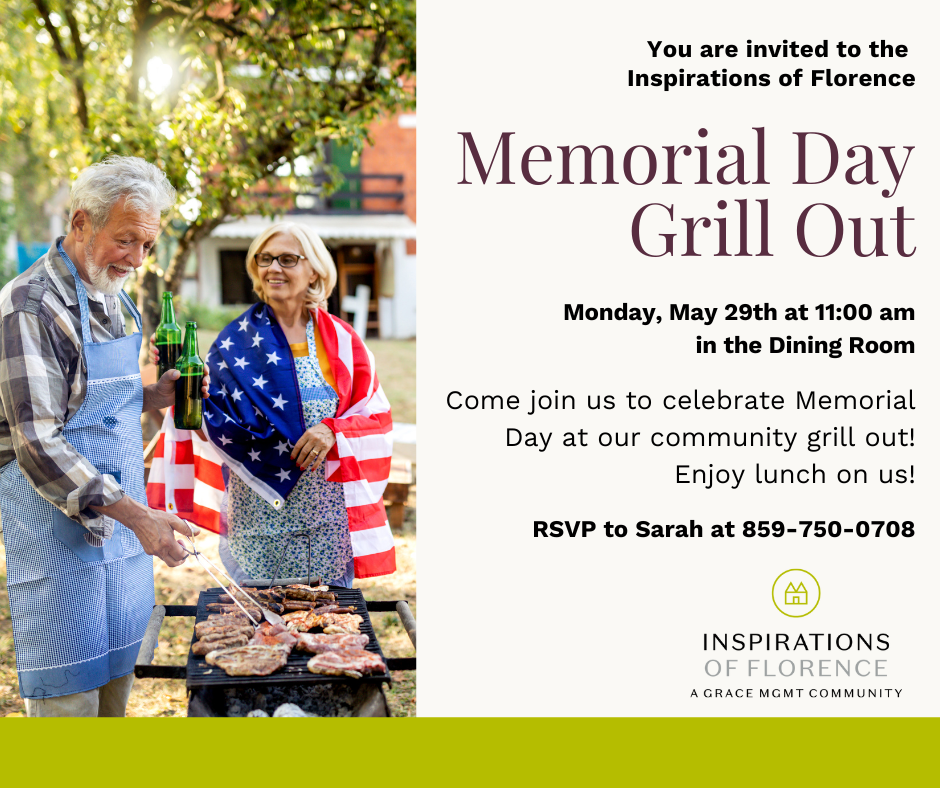 Wednesday, June 7th | 5:30 pm
Free Legal Consult!
Please join us as attorneys Mark Yonts, Daniel Urbon, and Joseph Schulte present on the necessity of having a will, an estate plan, and any other free legal elder counsel free of charge to you! Come plan for your family's furutr.
Snacks and refreshments included. Free legal consults are included in attendance.
RSVP by June 5th to 859-750-0708.
Click here to RSVP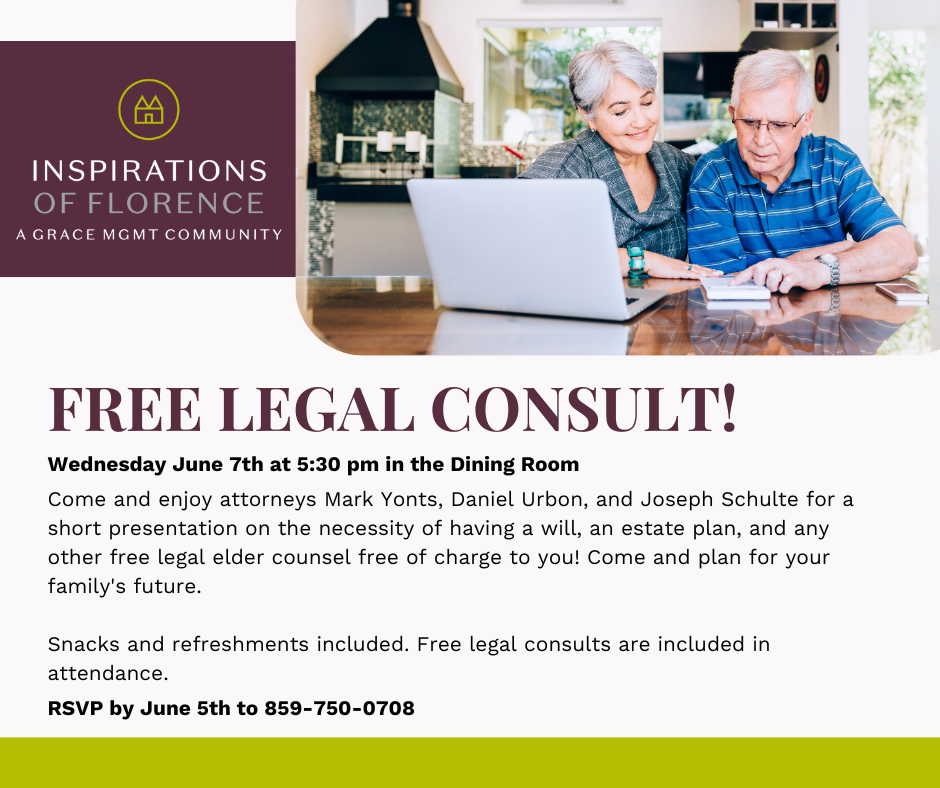 Friday, July 7th | 1:30 PM | Dining Room
Wine & Cheese Pairing
Please come enjoy live entertainment with Denny Duvall! Enhance the experience with a cheese and wine pairing too. Enjoy snacks and live music!
RSVP by July 5th to Sarah at 859-750-0708.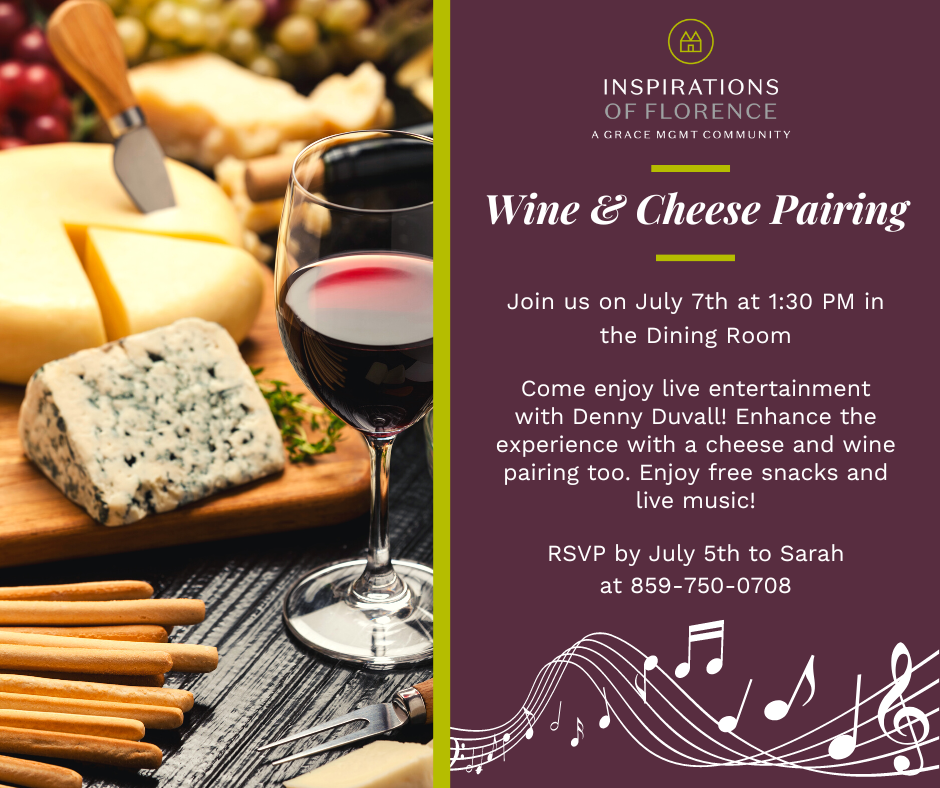 Join Us Anytime!
Living Gracefully, Unbound!
In May, we are celebrating the 60th annual Older Americans Month. This year's theme "Aging Unbound" offers older adults an opportunity to explore a wide range of aging experiences and enjoying fulfillment by paving our own paths as we age. At Inspirations of Florence we provide a variety of opportunities to help our residents live a fulfilled life as you age. We understand that each resident who calls our community home is unique with their own interests and strengths. It is with gratitude and grace that we support them in all they desire and want to pursue by including a variety of living options, restaurant-quality dining, distinctive services, and engaging life enrichment.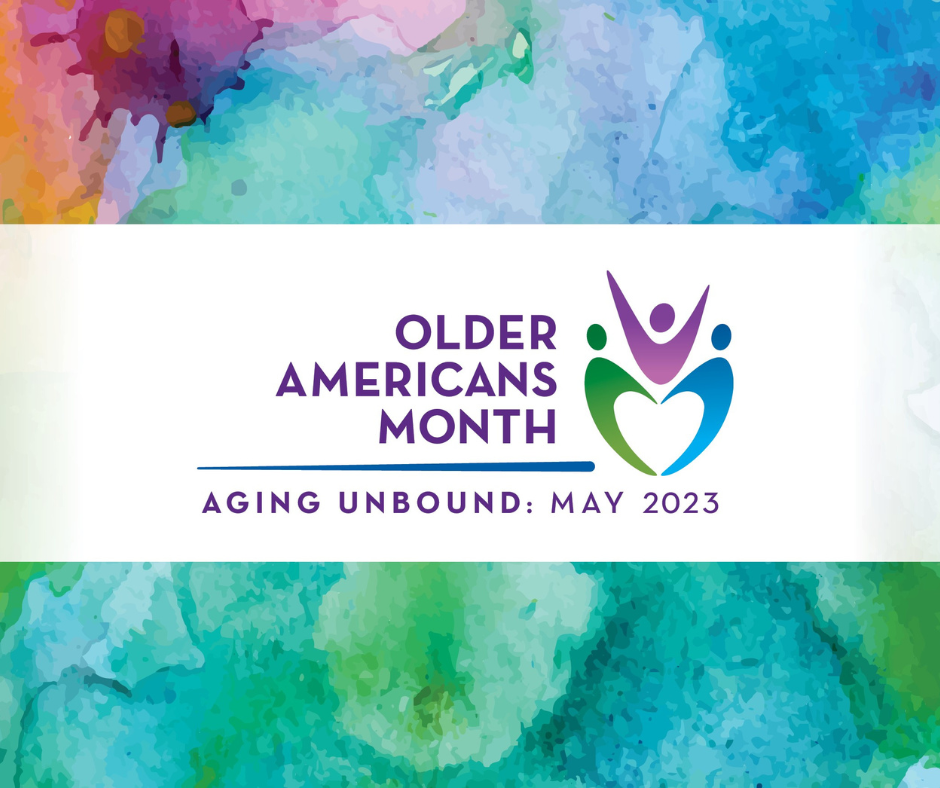 Graceful Dining
Food brings us together. Whether sharing an intimate meal with a best friend or celebrating a special occasion with all your loved ones, we are certain that living here will satisfy your appetite for connection with others and for the most delicious food.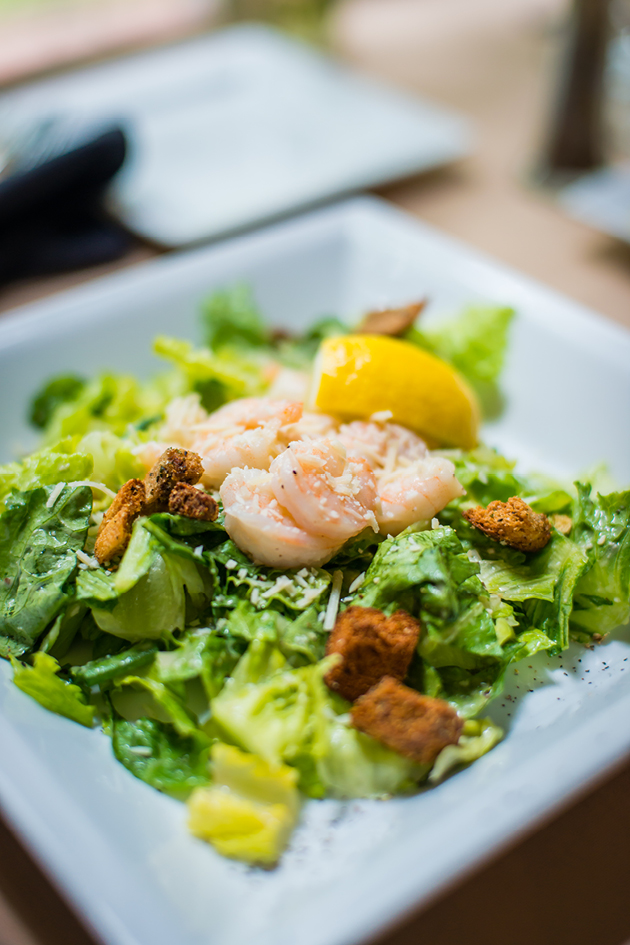 Restaurant-Style Dining
A healthy lifestyle starts with healthy eating options. Our meals are made with real ingredients, by real chefs. From 24/7 availability of snacks and beverages to options for social, family-style meals, dining at Inspirations of Florence is sure to add flavor to your everyday experience. Homemade and restaurant-quality, our food is fit for any taste.
Download Sample Menu
Health & Wellness
Living well can mean lots of things. It's seizing opportunities to connect with others, explore interests, grow spiritually and nurture a healthy lifestyle. It's being part of a community where you feel valued and welcome. At Inspirations of Florence, we provide all the ingredients our residents need to live up to their full potential. From fitness lessons to therapeutic programs and everyday activities that define our vibrant community, everything we do is guided by a sense of purpose.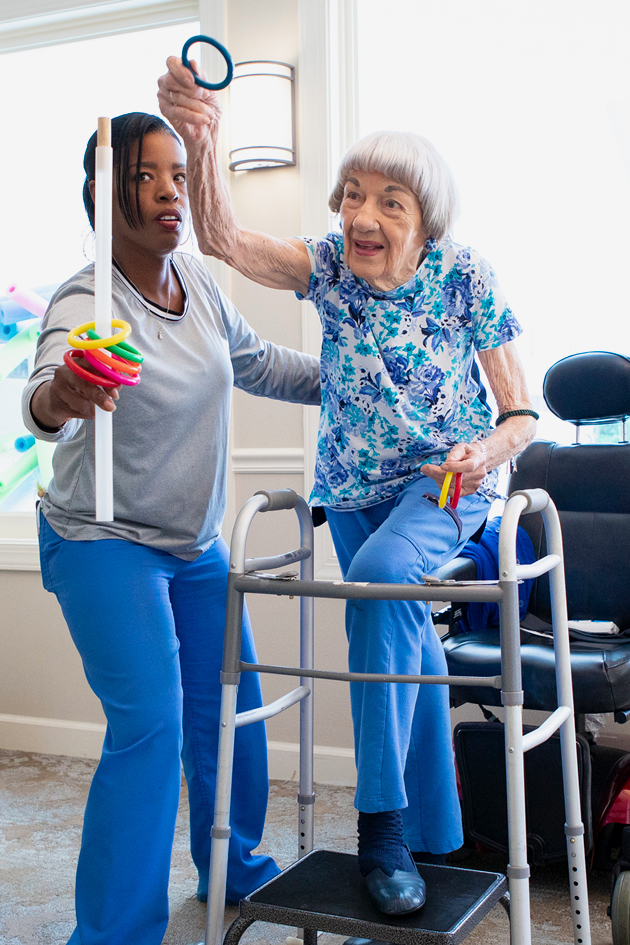 Therapy Partners
Aging is a natural process, and one that presents both joys and challenges along the way. Sometimes we need a little extra help, which is why our community partners with therapy providers to ensure mobility stays high and stress remains low. We have carefully selected partners who are known for their therapy skills, tailoring programs to meet your individual needs. Guided by professionals who have experience working with a range of issues, we help you get the compassionate and convenient care that helps you live your best life.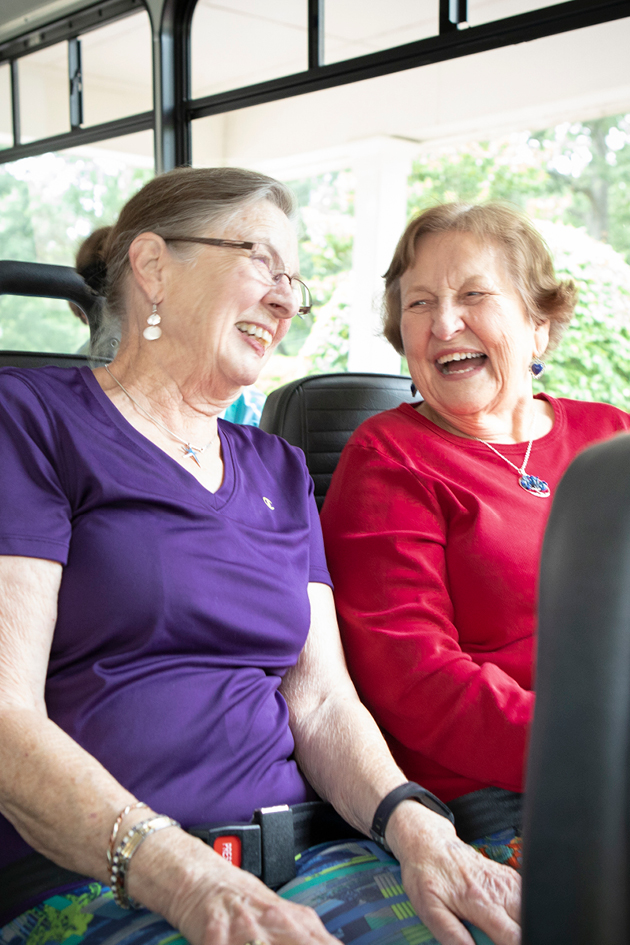 Transportation
From around your neighborhood to out in the town, we want you to live your life to the fullest. We welcome you to explore nearby attractions and events at your leisure and ensure that your travel is safe and convenient. Whether it's to attend medical appointments or enjoy the local flavors and shops, we connect you with transportation you can count on.